The Name is Bond...
By Gayle Mitchell
Paul Kyriazi, author of the audio book, "How to Live the James Bond Lifestyle," was duplicating the style of his hero, 007 when he became an instant millionaire at the Treasure Island in Las Vegas. "I wanted to see the pirate show and afterwards played about $40 on the Regis machines."
"When the three Regis symbols lined up, I knew I had won something big but never imagined it was this big!" Kyriazi gathered up $1.5 million, the first-ever jackpot paid by the Regis Cash Club video slots.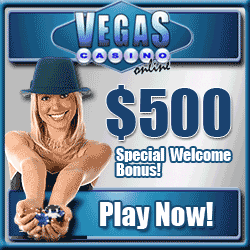 Take advantage of this incredible offer today! Play online slots, blackjack, poker and many other fantastic card games. Join NOW!

© 2006 Slot Machines Hangout. All Rights Reserved. This material may not be published, broadcasted, rewritten, or redistributed