Tomb Pharaoh Slots

Single Line Slots

There is a cache of riches to discover upon entering the Tomb of the Pharaoh and explore the secrets of Egypt.
You will want to gaze on the Great Pyramids for the top prize is yours when you spy three of these golden monuments on the center payline of this 3-coin slot.
Note the jump in rewards for three Great Pyramids: 400 for 1-coin bet, 800 for 2-coins and then a generous 2000X selected denomination for maximum bet play. That extra coin is indeed a golden award.
The prized King Tut's Mask offers a second bonus of 200, 400 and 600 for three symbols at 1, 2 and 3 coin
coin play.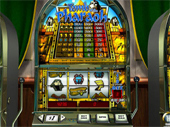 Other ancient riches include cartouches, scarabs and sphinxes accompanied by haunting, exotic sounds for every win.
Keep your 'eye on the prize' Horus eyes, in this case, as the most frequent treasure found in the Pharaoh's tomb. Maximum bet play brings on 75 credits for three, 15 credits for two and 6 credits for one.

Strategy Tip:
Maximum coin bet play would provide greater returns and benefits with this slot version.
Another consideration is that payouts are based on the denomination selected for play. There are several options available: nickels, dimes, quarters, ½ dollar, dollar plus two and five dollars.
Tomb of the Pharaoh provides a spinning variety of treasures and the top reward creates a 'Great' slot.

© Copyright 2007 Slot Machines Hangout. All Rights Reserved. This material may not be published, broadcasted, rewritten, or redistributed