The Very Big Jackpot!
By Gayle Mitchell
The largest slot machine jackpot in offline gaming history of $39,713,982. was won on Friday 3/21/03 on an IGT Megabucks machine at the Excalibur in Las Vegas . The winner, who requested anonymity, is a 25-year-old software engineer from Los Angeles . He said he had played about $100 on the machine when he turned his head away from it for an instant. When he looked at the machine again, the winning symbols had lined up.
Congrats to the young bachelor whose life is sure to change dramatically.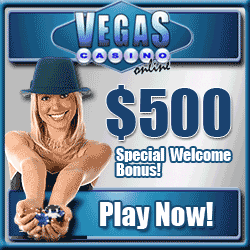 Take advantage of this incredible offer today! Play online slots, blackjack, poker and many other fantastic card games. Join NOW!
© 2006 Slot Machines Hangout. All Rights Reserved. This material may not be published, broadcasted, rewritten, or redistributed