A Native American Record
By Gayle Mitchell
Did you know that there is an exclusive Native American progressive network?
Wildhorse Casino Resort is part of the 11-state Native American Progressive Slot network that includes Oregon, New Mexico, Louisiana, Kansas, Iowa, South Dakota, North Dakota, Minnesota, Wisconsin, Michigan, and Connecticut.
If was, in fact, Wildhorse Casino that recorded the largest jackpot win of $ 9,164,299 in the history of this game.
This casino also boasts the 'place to be' for nine of the 18 primary jackpots won in Oregon.
The previous record, now demoted to second, was for $ 7.4 million at a Wisconsin tribal casino.
The winning couple, Bob and Mollie Breshears of Washington state invested only $20.
"When Bob hit the jackpot, I thought he was joking," Mollie stated. "I never thought anything like this would ever happen.
I guess the first thing we will do is visit some of our family." There will now be time and sharing among the six children and 16 grandchildren for this beekeeper and his retired wife.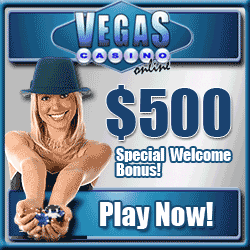 Take advantage of this incredible offer today! Play online slots, blackjack, poker and many other fantastic card games. Join NOW!

© 2006 Slot Machines Hangout. All Rights Reserved. This material may not be published, broadcast, rewritten, or redistributed