Another 777 Millionaire
By Gayle Mitchell
Lucille Sismanovich of Northampton, Pennsylvania , hit the jackpot for $1,581,515. on a Millionaire 777 dollar progressive slot machine at the Showboat Hotel & Casino in Atlantic City . It is the first time this particular jackpot has been won in AC.

Sismanovich hit the jackpot five months to the day after the last Millionaire 777 jackpot was won nationally in California . She played just $40 before hitting the 'big one'. "My husband and 1 wanted to get one last trip to Atlantic City in before the start of hunting season. I can't even imagine what I'm going to do with all that money," she exclaimed.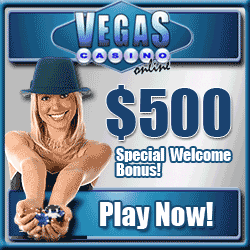 Take advantage of this incredible offer today! Play online slots, blackjack, poker and many other fantastic card games. Join NOW!
© 2006 Slot Machines Hangout. All Rights Reserved. This material may not be published, broadcasted, rewritten, or redistributed