A Warm Win
By Gayle Mitchell
Diana Liotta, of Woodbury, New York inserted just $50 into an Addams Family nickel progressive slot at the Showboat Hotel Casino in Atlantic City when she scored a $774,689.12 jackpot.

When she realized her major luck, she couldn't wait to share the news. "I want everyone to know, God has solved my burial worries and my personal debt," she said. "I'm not sure how I'm going to tell my kids. I think I will have a big party this weekend and nonchalantly place the big check somewhere."
It was important that her children share in her good fortune. "I have always believed in giving to my children while my hands are warm," said the retired Spanish teacher. "Now I have more to give them. Winning this jackpot has made it possible."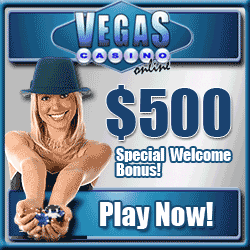 Take advantage of this incredible offer today! Play online slots, blackjack, poker and many other fantastic card games. Join NOW!
© 2006 Slot Machines Hangout. All Rights Reserved. This material may not be published, broadcasted, rewritten, or redistributed