Play New or Old Slot Machines?
By Chris Bibey
Every year
slot machine
manufacturers release new games to the public. If you want to play these games all you have to do is head for the casino. This leads to the question of whether or not you should play new or old slot machines. While the answer may sound simple, it is often times anything but that.
Most players like to give new slot machines a try. After all, these are
the games
that get the most attention because they have never been seen before. There is nothing wrong with this as long as you do not forget about what else is available. If you continually chase after the newest slot machines you may forget about those that have been good to you in the past.
Some new slot machines have updated features that may interest you – this is why you should play them. Some will also payout more money, but this is not a rule that holds true all the time. Just like any game you should know what you are getting yourself into before you start playing. How much can I win? How much do I have to bet? These are all questions that you want to ask yourself.
Next time you are at the
casino
look around to see what types of slots are available. You will probably find some machines that are new to you. No matter what, consider both new and old slot machines before making a decision on where to bet your money.
SlotsPlus with a Welcome Bonus of $500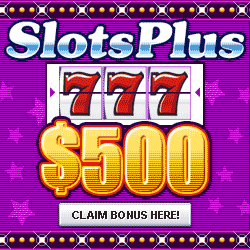 © Copyright 2009 Slot Machines Hangout This material may not be published, broadcast, rewritten, or redistributed.