Party Line Slots
Single Line Slots


Is it possible to have too much fun
playing slots
? Yes, with the festive Party Line slot amid balloons, streamers, party hats, smooth sounds and a glass of bubbly.
Dance your way into the party scene, spin those reels and listen for the frequent sound of "It's Party Time" for any win.
You can party-hardy with the top bonus prize of three party hats and a max. bet payout of 4000X.
This 3-coin single payline slot also offers a 1200X and 2400X your selected denomination payout for three party hats at 1-coin and 2-coin bets.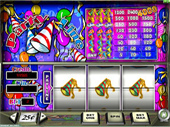 No party is complete without the sweet sounds of music and three saxophones presents a generous second prize of 750X with max bet in play.
Other party items are a piano keyboard, radio and colorful champagne glasses in red, blue and yellow.
Spin any three glasses of bubbly on the center payline and you receive a 15X pay for max bet.
Party Line Slots Strategy Tip:
Maximum coin bet play would provide greater returns and benefits with this slot version.
Another consideration is that payouts are based on the denomination selected for play. There are several options available: nickels, dimes, quarters, ½ dollar, dollar plus two and five dollars.
Party On, my slot playing friends.
Play Party Line Slots at SlotsPlus.com


© Copyright 2006 Slot Machines Hangout. All Rights Reserved. This material may not be published, broadcasted, rewritten, or redistributed