Garden of Slots
Single Line Slots
Relax among garden greenery, chirping birds and soft sounds while the story of the Garden of Eden unfolds. Adam and Eve invite you into their special place where the fruits of the land are harvested, but as this familiar story goes, there are snakes to be found in this garden paradise.
This single payline slot offers a generous reward for three captured snakes of 4000X your selected denomination for a 3-coin bet. Two coin bet equals 2000 and 1 coin bet for three snakes is 1000.
Fig leaves are valuable also at 200, 400 and 600 multiplier pays.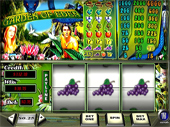 Other story symbols include blue orchids, apple trees and a trio of fruits: apples, pair of pears and a cluster of grapes. A frequent hit of any three fruit combination on the center payline will gather in 5, 10 and 15
times the denomination in play.
Strategy Tip:
Maximum coin bet play would provide greater returns and benefits with this slot version.
Another consideration is that payouts are based on the denomination selected for play. There are several options available: nickels, dimes, quarters, ½ dollar, dollar plus two and five dollars.
For a relaxing change of pace, I recommend a walk in paradise to gather an abundant fruit basket and discover that some snakes can offer exciting rewards.

© Copyright 2007 Slot Machines Hangout. All Rights Reserved. This material may not be published, broadcasted, rewritten, or redistributed