Funky Monkey Slots
Single Line Slots
Mr. Celebrity, Funky Monkey with shades and a toothy grin welcomes you to his jungle home as he distributes credits from an assortment of goodies.
This single payline 3-coin slot sends out a 'high value' beat for three conga drums. Listen for the funky monkey brand of music as you collect 2500X the denomination for max bet.
In addition, the beat continues for 2-coins at 1600X and 800X for 1-coin bet.
A small grove of three waving palm trees brings on a 1200X payday for a 3-coin bet.
Other symbols that will give a smile to you and your jungle friend are thatched huts, his signature sunglasses, bananas and groups of 1Bar, 2Bar plus 3Bar.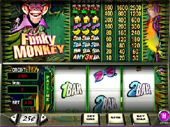 Monkey bars combination of any three bars on the center payline provide a 10, 20 or 30 payout for
corresponding 1, 2 and 3 coin bets.
Strategy Tip: Maximum coin bet play would provide greater returns and benefits with this slot version. Another consideration is that payouts are based on the denomination selected for play. There are several options available: nickels, dimes, quarters, ½ dollar, dollar plus two and five dollars.
You will not be able to resist this Funky Monkey Slots character and his exciting prizes.
Play Monkey Slots at SlotsPlus.com


© Copyright 2006 Slot Machines Hangout. All Rights Reserved. This material may not be published, broadcasted, rewritten, or redistributed