He Did It His Way
By Gayle Mitchell
Larry Giusti of Galveston, TX wanted to play the Vegas themed version of the Frank Sinatra slot, but settled for New York instead until his choice became available.
After moving over to the vacant slot and $100 later, Vegas and Frank made Larry a 'very happy man' by producing a $503,549 jackpot. While Sinatra has always been his favorite singer, you can now add the Isle of Capri in Lake Charles, LA to that list.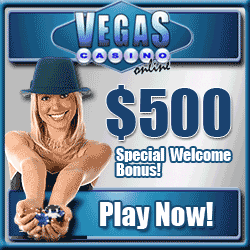 Take advantage of this incredible offer today! Play online slots, blackjack, poker and many other fantastic card games. Join NOW!
© 2006 Slot Machines Hangout. All Rights Reserved. This material may not be published, broadcast, rewritten, or redistributed