Dinosaur Slots
Single Line Slots
Dinosaur slot is a Jurassic journey through the land of the powerful beasts of the Mesozoic era.
These dinosaurs in vivid colors will leave you in awe with the anticipation of each appearance as you spin across their land.
The names of these grazing giants for this 3-coin single payline slot are an education in history: T-Rex, Triceratops, Ornithopods, Stegosaurs and Sauropods. The largest return belongs to three green and yellow Sauropods at 2000X selected denomination for a max. play bet.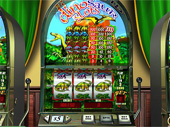 A grouping of three palm trees offers a graduated win of 50,100 and 150 for 1, 2 and 3 coins bets.
Further, two palms on the center payline will pay 15X and 1 palm a 6X credit with maximum bet of 3 coins.
The roar of the beast will announce all wins and the march of these giants can be heard as you spin.
Strategy Tip:
Maximum coin bet play would provide greater returns and benefits with this slot version.
Another consideration is that payouts are based on the denomination selected for play. There are several options available: nickels, dimes, quarters, ½ dollar, dollar plus two and five dollars.
This slot adventure and the hunt for dinosaurs can only be described as a 'gigantic' experience.

© Copyright 2007 Slot Machines Hangout. All Rights Reserved. This material may not be published, broadcasted, rewritten, or redistributed