Classic Bar Slots
Single Line Slots
This single payline slot is considered basic training for slot players.
Line up 1 Bar, 2 Bar, 3 Bar, yeah! and then another and another.
This 3-coin single payline slot is a basic education in fun offering 5 symbols of 7's, single bar, double bars, triple bars and the popular cherries being a frequent hit as you spin along this classic route.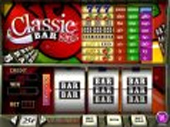 At the top of the chart are the three lucky 7's that will provide a generous payday of 5000X the selected denomination for max bet. 2-coin pays 2000X and 1-coin pays 1000X
A three cherry grouping will produce a 480X reward for a max bet.
Two cherry symbols on the payline pay 5, 10 and 15 for 1, 2 and 3-coin bets while a lone cherry pays 2, 4 and 6.
Lining up three of the same single, double or triple bars amid the sounds of cranking reels will end with a piano crescendo for the instant win.
Strategy Tip:
Maximum coin bet play would provide greater returns and benefits with this slot version.
Another consideration is that payouts are based on the denomination selected for play. There are
several options available: nickels, dimes, quarters, ½ dollar, dollar plus two and five dollars.
For basic entertainment, this slot is the best, bar none!

© Copyright 2007 Slot Machines Hangout. All Rights Reserved. This material may not be published, broadcasted, rewritten, or redistributed