It's My Turn
By Gayle Mitchell
Do you ever walk through a casino, like I do, and find couples taking turns attacking the spin button on slots? Well, this togetherness resulted in a $611,400 win for James and Leah Harman from Truckee, CA
All it took was $5, a visit to Boomtown Casino in Reno and the right Wheel of Fortune progressive before the shock set in. Leah got the winning spin, but it didn't register in her mind immediately.
She was ready for another spin when James bellowed out a "Don't touch that machine!" command, like any member of the US Air Force can do so well.

Leah observed the command and stated, "I was confused when it hit. I thought it was broken because it didn't pay me anything.
No credits registered so I wanted to keep playing." Getting over the initial good fortune caused Leah to almost pass out at which time an ice pack was applied by a concerned casino employee.
She did muster up the strength to call her father with the spectacular news.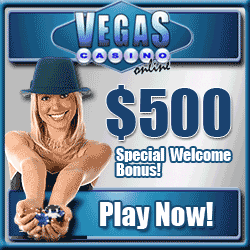 Take advantage of this incredible offer today! Play online slots, blackjack, poker and many other fantastic card games. Join NOW!
© 2006 Slot Machines Hangout. All Rights Reserved. This material may not be published, broadcasted, rewritten, or redistributed