How Much Did You Say?
By Gayle Mitchell
Helen and Paul Miesemer, retired teachers, head out to the Atlantic City boardwalk casinos at least once a week. Helen selected a Wheel of Fortune at the Taj and after $125, up popped the three Wheel of Fortune icons and a jackpot of $1,209,524, much to the shock of the winner.
"I can't believe it" and "I didn't realize how much it was until the attendant came up and told me" were the best replies at that moment.
In the afterglow of the win, Helen's husband Paul was contacted in their hotel room as he prepared for an upcoming party. Paul recalls, "They told me my wife wanted me to come down to the casino because she had won a lot of money". I asked, "How much, a couple thousand?" Then they said, "No, 1.2 million."
As Helen and Paul prepared for a winner's photo session, Helen turned to Paul and asked if her hair looked okay. His reply, "You look like a millionaire."
The money will be put to good use for the purchase of a new car and assisting relatives with a new business.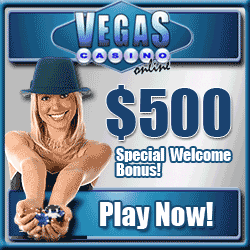 Take advantage of this incredible offer today! Play online slots, blackjack, poker and many other fantastic card games. Join NOW!
(© 2005 Slot Machines Hangout. All Rights Reserved. This material may not be published, broadcast, rewritten, or redistributed)