Alien Alert Slots
Single Line Slots
They are here! Yes, there are aliens among us, but these green, blue and pink creatures are friendly to slot players.
The theme of Alien Alert, a single payline slot, is the search for alien treasures. You will find that they come in peace as illustrated by the top prize of an alien hand with four fingers poised in a welcome greeting.
Line up three hands on the center payline and your gift is a 4000 payout for max bet. Two coin bet payout is 2000 and a 1 coin row of three hands will pay 1000X your denomination bet.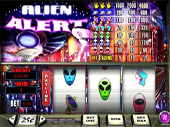 Capturing three alien spaceships brings on some nice coin of 200, 400 and 600 for 1, 2 and 3 coin bets.
The hunt continues for space guns and satellite dishes paid out according to the number of coins bet.
Any three alien combination will award 15 coins for a max. bet.
A quirky bonus in this fun game is that the bounty for green aliens is more than blue and pink aliens.
Strategy Tip:
Maximum coin bet play would provide greater returns and benefits with this slot version.
Another consideration is that payouts are based on the denomination selected for play. There are several options available: nickels, dimes, quarters, ½ dollar, dollar plus two and five dollars.
You are sure to have a wild and crazy hunt for these colorful creatures.

© Copyright 2006 Slot Machines Hangout. All Rights Reserved. This material may not be published, broadcasted, rewritten, or redistributed