A World Record
By Gayle Mitchell
A Santa Ana , CA. man celebrated his 7Oth birthday by winning the world's largest 25-cent slot machine jackpot.
Manuel Herrera was playing Wheel of Fortune quarters at the Flamingo in Laughlin, Nevada , when he won the $8.4 million jackpot. A retired restaurant worker, Herrera was visiting Laughlin on a bus tour when his $30 cash outlay made him a millionaire.
He said, "he was preparing to leave the casino but decided to play just a little longer."
"The bank of machines was busy with players on both sides of him and he had a feeling about that particular machine." As for the winnings, Herrera explained that he has 5 sons, 5 daughters, 45 grandchildren and 16 great grandchildren, so there's no lack of places to spend his riches.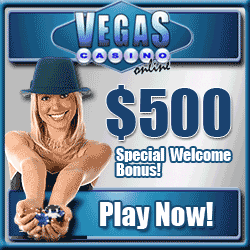 Take advantage of this incredible offer today! Play online slots, blackjack, poker and many other fantastic card games. Join NOW!
© 2006 Slot Machines Hangout. All Rights Reserved. This material may not be published, broadcasted, rewritten, or redistributed